UPDATE September 19, 2015: Want to learn how to carve pumpkins? I'm creating a set of step-by-step video tutorials. Check out Carve Awesome Pumpkins for more info!
~~~
It's that time of year again!
I'm running behind this year already. I'm not even sure what I'm going to carve yet, never mind the carving itself!  I don't have a long series of posts planned for this year, but I will search out any new YA-themed pumpkin patterns and share them with you in October.
In the meantime, here's last year's series to get you started:
And here's a coupon for stoneykins.com — the web's best pumpkin patterns!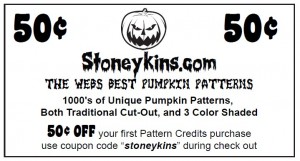 Have you started carving yet? How about planning what to carve?
Related Posts: