UPDATE September 19, 2015: Want to learn how to carve pumpkins like these? I'm creating a set of step-by-step video tutorials. Check out Carve Awesome Pumpkins for more info!
~~~
Welcome to week 4 of my Pumpkin Carving series.  In case you missed any of the previous posts:
This week is all about Harry Potter! I would love to have a collection of Harry Potter pumpkins just like my Twilight pumpkins. I'm slowly working up to it.  So far, I have carved these:
As you might expect, there are bunches of Harry Potter pumpkin carving patterns available online, both free and for purchase.
Harry Potter Pumpkin Patterns — Free
Stoneykins sells patterns, but he has 100 free patterns as "samples" and one of them is Harry Potter: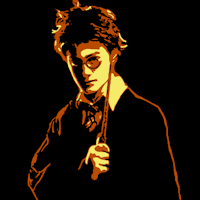 Pink Ray Gun has three free Harry Potter patterns:
Harry Potter Pumpkin Patterns — Purchase
 Stoneykins.com
Stoneykins is my favorite source for detailed pumpkin patterns.  He creates hundreds of new patterns every year.  His prices are incredibly cheap: they are on a sliding scale based on how many patterns you purchase.  Packages range from $3-$25 — and you'll never pay more than $0.60 per pattern no matter what package you buy.
Here's a coupon you can use at Stoneykins: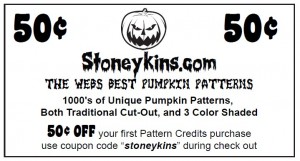 Zombie Pumpkins
Zombie Pumpkins is a great resource for pumpkins that do not have any shading but still look great.  This site also has a sliding price scale, ranging from $2-$20. The most you'll pay for a pattern is $1.
Ultimate Pumpkin Stencils
Ultimate Pumpkin Stencils is another site whose patterns do not have shading, yet look great.  They have the most patterns to sell in pop culture patterns.  Their prices range from $2-$5 if you buy the patterns individually, but if you buy the package, the patterns are less than $1 each.
Ultimate Pumpkin Stencils has a 12-pattern set, but you can also buy the patterns individually:

These two Deathly Hallows patterns are not part of the set:
Check Out This Carving Master!
Alex the Pumpkin Geek is a professional pumpkin carver. He does some really awesome work — both in the carving and in the creation of the patterns.  If you're interested in having Alex carve you a pumpkin, you can contact him through his website.