UPDATE September 19, 2015: Want to learn how to carve pumpkins like these? I'm creating a set of step-by-step video tutorials. Check out Carve Awesome Pumpkins for more info!
~~~
Welcome to week 2 of my Pumpkin Carving series.  Last week, I shared tips for carving great pumpkins.  This week, I'm sharing some pumpkin carving patterns based on young adult book covers and characters.
But First — TWO Contests!
 Win a pumpkin carved with your choice of book cover! Contest ends October 15, 2012.
If you came here from Novel Novice to enter for the Paper Towns pumpkin or Divergent pumpkin, all you need to do is leave a comment on this post!
Pumpkins I've Carved
FREE Pumpkin Patterns
A friend asked about a pumpkin carving pattern featuring the Beautiful Creatures series by Kami Garcia and Margaret Stohl.  I couldn't find one, so I made one myself. The lettering on the book is beautiful!  You can see a pumpkin carved with it a above.  I'm offering the pattern FREE from my blog.   Enjoy!
I found a great collection of patterns on Kate Hart's blog.  She has a total of 20 book cover patterns available for FREE.  Some of the patterns include:
I think that Anna and the French Kiss pumpkin is calling my name… 😉
Vampire Diaries Pumpkin Carving Patterns
I'm updating this blog post to add these new Vampire Diaries patterns from Ultimate Pumpkin Stencils: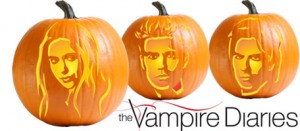 I've wanted a Damon pumpkin for a while now. It's definitely on my carving list!
Check Out This Carving Master!
Alex the Pumpkin Geek is a professional pumpkin carver. He does some really awesome work — both in the carving and in the creation of the patterns.  If you're interested in having Alex carve you a pumpkin, you can contact him through his website.
Next Week?
Part 3 of my Pumpkin Carving series will feature Twilight pumpkins. Check back next Sunday!