UPDATE September 19, 2015: Want to learn how to carve pumpkins like these? I'm creating a set of step-by-step video tutorials. Check out Carve Awesome Pumpkins for more info!
~~~
Twilight Pumpkin Carving Patterns
Welcome to week 3 of my Pumpkin Carving series.  First, I shared some tips for carving.  Last week, I shared links to young adult book cover carving patterns. I also announced a contest.
This week, I'm sharing the Twilight pumpkins I've carved as well as links to the carving patterns.
 Twilight Pumpkins I Have Carved
It started innocently enough in 2008. I carved the Twilight movie poster onto a pumpkin. Since then, my Twilight pumpkin collection has grown a little…
It looks like this will be the first year since then that I won't be carving a Twilight pumpkin. But we'll see.
Twilight Pumpkin Carving Patterns — Free
This article has links to several free Twilight pumpkin carving patterns, including the Edward & Bella  and the Alice Cullen pumpkins  shown above from Pumpkin Wizard.
I created the pattern for the Breaking Dawn Part 1 pumpkin shown above.  I'm happy to share it freely, just remember that I'm a better carver than I am pattern maker. 😉
Twilight Pumpkin Carving Patterns — To Purchase
Free patterns are great, but they aren't always the best patterns for carving.  There are some really nice patterns available for purchase, and the prices are reasonable.
Ultimate Pumpkin Stencils has several Twilight patterns available in sets or individually. The Eclipse Movie Poster, Jasper, and Alice pumpkins above are from Ultimate Pumpkin Stencils. Their prices range from $2-$5 if you buy the patterns individually, but if you buy the package, the patterns are cheaper. This year, they've added 4 patterns for Breaking Dawn, shown here: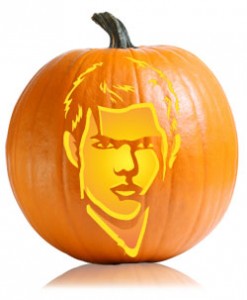 Zombie Pumpkins has Edward and Bella pumpkins. Patterns are $1 each or cheaper, depending how many you purchase.
But my favorite, favorite, favorite source for patterns — Twilight and otherwise — is Stoneykins.  Six of the pumpkins shown above are from Stoneykins, and he has a few more that I haven't carved. Click on the picture to go Stoneykins' website for purchase:
There's hundreds of patterns every year at Stoneykins.  His prices are incredibly cheap: they are on a sliding scale based on how many patterns you purchase.  Packages range from $3-$25 — and you'll never pay more than $0.60 per pattern no matter what package you buy. Here's a coupon you can use at Stoneykins: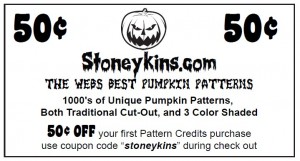 Check Out This Carving Master!
Alex the Pumpkin Geek is a professional pumpkin carver. He does some really awesome work — both in the carving and in the creation of the patterns.  If you're interested in having Alex carve you a pumpkin, you can contact him through his website. Check out the Twilight pumpkins he's carved:
Next Week?
Part 4 of my Pumpkin Carving series will feature Harry Potter pumpkins. Check back next Sunday!
For the comments: Have you carved any Twilight pumpkins? Want to share pictures?