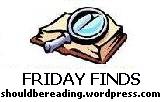 FRIDAY FINDS is hosted by Should Be Reading and showcases the books you 'found' and added to your To Be Read (TBR) list… whether you found them online, or in a bookstore, or in the library — wherever! (they aren't necessarily books you purchased).
Some weeks I add several books to my list. I'll be limiting my Friday Finds posts to 5 books each week. Those that don't make this week's list will be on next week's. So many books, so little time!
The Brothers Bishop by Bart Yates
Why I Added It: This was recommended to me by my awesome critique partner because of its similar themes to my WIP, Brotherly Love.  The reviews for this book are spectacular, which makes it very intimidating to me.  I want to read it, but I fear I will be so blown away I'll want to trash my WIP.
Summary:
Tommy and Nathan Bishop are as different as two brothers can be. Carefree and careless, Tommy is the golden boy who takes men into his bed with a seductive smile and turns them out just as quickly. No one can resist him – and no one can control him, either. That salient point certainly isn't lost on his brother. Nathan is all about control. At thirty-one, he is as dark and complicated as Tommy is light and easy, and he is bitter beyond his years. While Tommy left for the excitement of New York City, Nathan has stayed behind, teaching high school English in their provincial hometown, surrounded by the reminders of their ruined family history and the legacy of anger that runs through him like a scar.

Now, Tommy has come home to the family cottage by the sea for the summer, bringing his unstable, sexual powder keg of an entourage – and the distant echoes of his family's tumultuous past – with him. Tommy and his lover Philip are teetering on the brink of disaster, while their married friends, Camille and Kyle, perfect their steps in a dance of denial, each partner pulling Nathan deeper into the fray. And when one of Nathan's troubled students, Simon, begins visiting the house, the slow fuse is lit on a highly combustible mix.

During a heady two-week party filled with drunken revelations, bitter jealousies, caustic jabs, and tender reconciliations, Tommy and Nathan will confront the legacy of their twisted family history – the angry, abusive father and the tragic death of their mother – and finally, to the one secret that has shaped their entire lives. It is a summer that will challenge everything Nathan remembers and unravel Tommy's carefully constructed facade, drawing them both unwittingly into a drama with echoes of the past…one with unforeseen and very dangerous consequences.
Things I Can't Forget by Miranda Kenneally
Why I Added It: I've read Catching Jordan and I have Stealing Parker on my shelf waiting. I love the idea of companion books: seeing minor  or new characters from the same universe have their own story.
Summary:
Companion to Catching Jordan and Stealing Parker.

Kate has always been the good girl. Too good, according to some people at school—although they have no idea the guilty secret she carries. But this summer, everything is different…

This summer she's a counselor at Cumberland Creek summer camp, and she wants to put the past behind her. This summer Matt is back as a counselor too. He's the first guy she ever kissed, and he's gone from a geeky songwriter who loved The Hardy Boys to a buff lifeguard who loves to flirt…with her.

Kate used to think the world was black and white, right and wrong. Turns out, life isn't that easy…
Ever by Jessa Russo
Why I Added It: I seem to be on a "girl in love with a dead guy" kick lately, but I like "in love with my best friend" stories also, and this sounds like it might have a love triangle as well.
Summary:
BOOK ONE in The EVER Trilogy

Seventeen-year-old Ever's love life has been on hold for the past two years. She's secretly in love with her best friend Frankie, and he's completely oblivious.

Of course, it doesn't help that he's dead, and waking up to his ghost every day has made moving on nearly impossible.

Frustrated and desperate for something real, Ever finds herself falling for her hot new neighbor Toby. His relaxed confidence is irresistible, and not just Ever knows it. But falling for Toby comes with a price that throws Ever's life into a whirlwind of chaos and drama. More than hearts are on the line, and more than Ever will suffer.

Some girls lose their hearts to love.

Some girls lose their minds.

Ever Van Ruysdael could lose her soul.
The Art of Wishing by Lindsay Ribar
Why I Added It: Now here's a different sort of paranormal romance — genies! That alone made me want to read it. Something fresh and new.
Summary:
He can grant her wishes, but only she can save his life.

Margo McKenna has a plan of attack for everything, from landing the lead in her high school musical to dealing with her increasingly absent parents. But when she finds herself in possession of a genie's ring and the opportunity to make three wishes, she doesn't know what to do. Especially since Oliver–not blue-skinned, not bottle-dwelling, but a genie nonetheless–can see more than what she's willing to show him. With one peek into her mind, he can see the wishes that even Margo herself doesn't know she wants.

But Oliver comes with more than just mind-reading abilities, a flair for magic, and the prettiest eyes Margo's ever seen. Someone from his past is hunting him–someone bent on killing him, along with all the other genies in the world, for the sake of honor. And as Margo soon discovers, it will take more than three wishes to save him.

A whole lot more.
Sand & Water by Shae Connor
Why I Added It: Straight-to-gay (or maybe he's bi?) romances intrigue me, plus this reminds me of a fan fiction story I never finished writing, just in a different setting.
Summary:
Widower John McConnell gets along fine raising his daughter on Georgia's Tybee Island, though he wouldn't exactly say he's happy. Haunted by the memory of his dead wife, John hasn't considered dating again until he meets Bryan Simmons in the park. It isn't long before John realizes that what he feels for Bryan could be something real, but how will he know he's ready to move on?

As John soon discovers, Bryan carries some heavy emotional baggage of his own. With John's help, Bryan starts to put his demons to rest, and together they lay the foundation for a relationship. It looks like they might finally leave their tragedies behind them-until John takes a misstep that could turn a magical night together into their last.
Related Posts: