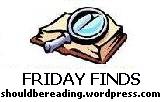 FRIDAY FINDS is hosted by Should Be Reading and showcases the books you 'found' and added to your To Be Read (TBR) list… whether you found them online, or in a bookstore, or in the library — wherever! (they aren't necessarily books you purchased).
Some weeks I add several books to my list. I'll be limiting my Friday Finds posts to 5 books each week. Those that don't make this week's list will be on next week's. So many books, so little time!
Twin Sense by Lydia Sharp
[cover not revealed yet]
Why I Added It: I've been following Lydia's blog for a while now and am looking forward to reading a book from her. I love the voice in the summary, and young adult with a gay theme is always something that catches my eye. Usually I go for gay boy characters, but perhaps it's time to broaden my horizons and try some lesbian characters. 🙂
Goodreads Summary:
two boys + two girls = one big mess 

As girlfriends of the Taylor twins, Layna and Sherri have only been friends by association. But when Sherri breaks up with Keith (for real this time), and Kevin gives Layna a promise ring (whoa, what?), Layna's whole world spins off balance. She avoids Kevin's unwelcome pressure to commit by spending more time with Sherri.

Without the twins around, Layna and Sherri are tempted to go beyond friendship status. Then Keith tries to win Sherri back, and Kevin apologizes for rushing Layna. Now she's stuck inside a double-trouble love quadrangle that has her reaching for the consolation cheesecake. The only way to sort out this mess is to make an impossible choice—between the one she wants and the other one she wants—or she might end up with no one.
Send by Patty Blount
Why I Added It: Romance with a redeemed bad boy. Also, it tackles a very relevant teen topic: cyber-bullying, but from the (former) bully's perspective rather than the victim's.
Goodreads Summary:
It's been five years since I clicked Send.
Four years since I got out of juvie.
Three months since I changed my name.
Two minutes since I met Julie.
A second to change my life.

All Dan wants for his senior year is to be invisible. This is his last chance at a semi-normal life. Nobody here knows who he is. Or what he's done. But on his first day at school, instead of turning away like everyone else, Dan breaks up a fight. Because Dan knows what it's like to be terrorized by a bully—he used to be one.

Now the whole school thinks he's some kind of hero—except Julie. She looks at him like she knows he has a secret. Like she knows his name isn't really Daniel…
Passing Shadows by M. King
Why I Added It: Originally I was intrigued by the protagonist  murdering his abusive father, but the devoted boyfriend sealed the deal. Sounds like an angsty romance novel, which usually isn't my thing, but there are some thematic similarities between this and my WIP and it's important to know what's already out there so you don't unknowingly repeat something.
Goodreads Summary:
After serving six years for murdering his abusive father, Tommy Hawks is released from prison. He moves back in with what's left of his family and tries to negotiate a new life with them and his partner, Brett, who has stood by him through everything. But moving on isn't so easy.

For six years, Brett Derwent sacrificed any chance of a normal life: he spent his college fund on defense lawyers, drove hundreds of miles to visitation days, and had his love letters read by strangers and his phone calls monitored by jailers. Now he and Tommy are faced with the monumental task of starting over as adults when they hardly had the chance to begin together as teens.

Resentment simmers just below the surface, but so do gratitude and guilt. Brett and Tommy need to give each other the time and space to discover who they are individually, and Tommy especially needs the opportunity to stand on his own—even if that means another separation.
Breaking Faith 
by M. King
Why I Added It: I discovered Passing Shadows first, then learned that it's a sequel to Breaking Faith. Like Passing Shadows, there are similar themes to my WIP.
Goodreads Summary:
Soon-to-be medical student Brett Derwent thinks he has everything all planned out. That is, until he meets Tommy Hawks. Over the course of one incredible summer in Northern Montana, this easy-going, kind-hearted guy turns Brett's life upside down…but Tommy isn't everything he seems.

Brutalized by his violent father, desperate to protect his mother and four siblings, and terrified of losing the love he never expected to find, Tommy is pushed to the edge.

When Tommy's father is found dead, Brett must face some impossible questions: how much is he willing to sacrifice for Tommy, and will having faith in him be enough?
Fiction First Aid by Raymond Obstfeld
Why I Added It: I found this in the library, but didn't have a chance to do more than flip through a couple chapters. What I did see looked very good, despite the "Get Rich Quick" feeling of the subtitle (Instant Remedies for Novels, Stories and Scripts).
Goodreads Summary:
Just like a first aid manual, this reference quickly offers writers easy-to-follow steps and specific remedies for fixing the parts in their manuscripts that "just aren't working."