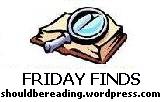 FRIDAY FINDS is hosted by Should Be Reading and showcases the books you 'found' and added to your To Be Read (TBR) list… whether you found them online, or in a bookstore, or in the library — wherever! (they aren't necessarily books you purchased).
Cassidy Jones and the Secret Formula by Elise Stokes
Amazon | Goodreads

Fourteen-year-old Cassidy Jones wakes up the morning after a minor accident in the laboratory of a world-renowned geneticist to discover that her body has undergone some bizarre physical changes. Her senses, strength, and speed have been radically enhanced.

After exploring her newfound abilities, Cassidy learns that the geneticist, Professor Serena Phillips, is missing and that foul play is suspected. Terrified that her physical changes and Professor Phillips' disappearance are somehow connected, Cassidy decides to keep her strange transformation a secret. That is, until she meets the professor's brilliant and mysterious fifteen-year-old son, Emery. An unlikely duo, they set out to find Emery's mother, who is key in explaining Cassidy's newly acquired superpowers.

Their lives are put at risk when they find themselves embroiled in a dangerous, action-packed adventure. Soon they are forced to confront a maniacal villain willing to do anything – including murder — to reach his own ambitious goals.
---
Shatter Me by Tahereh Mafi
Amazon | Goodreads

Juliette hasn't touched anyone in exactly 264 days.

The last time she did, it was an accident, but The Reestablishment locked her up for murder. No one knows why Juliette's touch is fatal. As long as she doesn't hurt anyone else, no one really cares. The world is too busy crumbling to pieces to pay attention to a 17-year-old girl. Diseases are destroying the population, food is hard to find, birds don't fly anymore, and the clouds are the wrong color.

The Reestablishment said their way was the only way to fix things, so they threw Juliette in a cell. Now so many people are dead that the survivors are whispering war– and The Reestablishment has changed its mind. Maybe Juliette is more than a tortured soul stuffed into a poisonous body. Maybe she's exactly what they need right now.

Juliette has to make a choice: Be a weapon. Or be a warrior.
---
The Plot Thickens by Noah Lukeman
Amazon | Goodreads
As a literary agent, Noah Lukeman hears thousands of book pitches a year. Often the stories sound great in concept, but never live up to their potential on the page. Lukeman shows beginning and advanced writers how to implement the fundamentals of successful plot development, such as character building and heightened suspense and conflict. Writers will find it impossible to walk away from this invaluable guide—a veritable fiction-writing workshop—without boundless new ideas.
---
Cold Kiss by Amy Garvey
Amazon | Goodreads
After her boyfriend is killed in a car accident, high school student Wren Darby uses her hidden powers to bring him back from the dead, never imagining the consequences that will result from her decision.
---
If I Lie by Corrine Jackson
Amazon | Goodreads
Quinn's done the unthinkable: she kissed a guy who is not Carey, her boyfriend. And she got caught. Being branded a cheater would be bad enough, but Quinn is deemed a traitor, and shunned by all of her friends. Because Carey's not just any guy—he's serving in Afghanistan and revered by everyone in their small, military town.
Quinn could clear her name, but that would mean revealing secrets that she's vowed to keep—secrets that aren't hers to share. And when Carey goes MIA, Quinn must decide how far she'll go to protect her boyfriend…and her promise.
Book summaries from Goodreads. Amazon links are affiliate links.