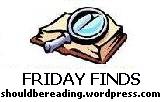 FRIDAY FINDS is hosted by Should Be Reading and showcases the books you 'found' and added to your To Be Read (TBR) list… whether you found them online, or in a bookstore, or in the library — wherever! (they aren't necessarily books you purchased).
Some weeks I add several books to my list. I'll be limiting my Friday Finds posts to 5 books each week. Those that don't make this week's list will be on next week's. So many books, so little time!
Goodreads
Summary:
Ben could date anyone he wants, but he only has eyes for the new girl — sarcastic free-spirit, Ani. Luckily for Ben, Ani wants him too. She's everything Ben could ever imagine. Everything he could ever want.

But that all changes after the party. The one Ben misses. The one Ani goes to alone.

Now Ani isn't the girl she used to be, and Ben can't sort out the truth from the lies. What really happened, and who is to blame?

Ben wants to help her, but she refuses to be helped. The more she pushes Ben away, the more he wonders if there's anything he can do to save the girl he loves.
Troll Or Derby by Red Tash
In Troll Or Derby, fifteen-year-old Roller Deb is singled out by town bullies for both her skates, and for being different. When her popular homecoming queen of a sister is kidnapped by a scuzzy drug dealer, Deb must flee the trailer park in which she's grown up, and rescue her. Along the way, Deb becomes enmeshed in the magical realm of trolls and fairies, and the blood-thirsty version of roller derby at which these beings excel. But spending too much time among the fairies comes with a price. Will Deb choose to save her sister, with the aid of a mysterious troll? Or will she be lost to the lures of roller derby, and the blonde temptress April, forever?
 Jason just wants a date with Harley.
Harley just wants a date with Trent.
Trent's still getting over Stephanie.

When Harley and Jason decide to fake date, they uncover a school of deceptions. Trent's got a secret, but so does Jason. And the more time Harley spends secretly kissing her fake boyfriend, the further she gets from her dreams with Trent.

Worst of all, Harley's mom is getting cozy with her hot massage therapy student, and even Harley's Reverend Dad can't fake not being bothered by it. But when the masks finally come off, can everyone handle the real truth?
I was never supposed to be a rock star. I had my life all planned out for me. Play football in college. Go to the NFL. Marry my high school sweetheart and live happily ever after.

I broke both our hearts that day when I told her I was leaving. I was young. I made the right decision for me, but the wrong decision for us. I've poured my soul into my music, but I've never forgotten her. Her smell, her smile.

And now I'm going back.

After ten years.

I hope I can explain that after all this time.

I still want her to be my forever girl.
Mia's first reaction is outright disbelief. Obviously, a mistake has been made. Sixteen-year-old girls don't die. But, when the diagnosis is confirmed, she dives headlong into anger. If she has to die, why should it be of cancer? In fact, anything would be preferable to cancer. Better for her to say when, where, and especially how.

Determined to meet death on her own terms, Mia devises scheme after scheme to get the job done. A "fall" down the basement stairs, driving her car off a bridge, and even a dance with a train all end in her survival.

And through it all, Mia keeps her family and friends at arms' length with her destructive and hurtful behavior. With each failed suicide attempt and burned relationship, she slowly realizes that it's not the dying that she's afraid of, but the life she'll be leaving behind. Now, that life is in a shambles. As time begins to slip through her fingers and death is upon her, Mia fights to rebuild the bridges she has destroyed, but can she do it before the clock runs out?