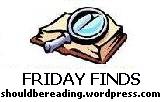 FRIDAY FINDS is hosted by Should Be Reading and showcases the books you 'found' and added to your To Be Read (TBR) list… whether you found them online, or in a bookstore, or in the library — wherever! (they aren't necessarily books you purchased).
Some weeks I add several books to my list. I'll be limiting my Friday Finds posts to 5 books each week. Those that don't make this week's list will be on next week's. So many books, so little time!
Scarlet by Marissa Meyer
Goodreads | Amazon
Why I Added It: I just read Cinder and need to read the next book in the series!

Summary:
Cinder returns in the second thrilling installment of the New York Times-bestselling Lunar Chronicles. She's trying to break out of prison—even though if she succeeds, she'll be the Commonwealth's most wanted fugitive.

Halfway around the world, Scarlet Benoit's grandmother is missing. It turns out there are many things Scarlet doesn't know about her grandmother and the grave danger she has lived in her whole life. When Scarlet encounters Wolf, a street fighter who may have information as to her grandmother's whereabouts, she has no choice but to trust him, though he clearly has a few dark secrets of his own.

As Scarlet and Wolf work to unravel one mystery, they find another when they cross paths with Cinder. Together, they must stay one step ahead of the vicious Lunar Queen who will do anything to make Prince Kai her husband, her king, her prisoner.
Serial Hottie by Kelly Oram
Goodreads | Amazon
Why I Added It: I love tomboy protagonists and this one sounds like it will be fun.
Summary:
Hockey-obsessed tomboy Eleanor Westley has never been the object of a guy's affection before. So when the hottest boy she's ever seen moves in across the street and starts treating her like she's the center of his universe, naturally she's going to be a little skeptical. But everything starts to make sense when girls who look just like Ellie start dying all around the city. Obviously the new guy is the killer, and of course he only likes her because he wants to slice her into tiny pieces. Right? The more Ellie gets to know Seth the more she's convinced he's a psychopathic killer. Problem is, he's the sweetest psychopathic killer she's ever met. Not to mention he's brutally hot. No matter how hard she tries, she can't help but fall for him. Will Ellie find true love, or will her summer of firsts turn out to be a summer of lasts?
Death and the Girl Next Door by Darynda Jones
Goodreads | Amazon
Why I Added It: Love triangle + mystery = intrigued

Summary:
Ten years ago, Lorelei's parents disappeared without a trace.  Raised by her grandparents and leaning on the support of her best friends, Lorelei is finally beginning to accept the fact that her parents are never coming home.  For Lorelei, life goes on.

High school is not quite as painful as she thinks it will be, and things are as normal as they can be.  Until the day the school's designated loner, Cameron Lusk, begins to stalk her, turning up where she least expects it,  standing outside her house in the dark, night after night.  Things get even more complicated when a new guy—terrifying, tough, sexy Jared Kovach—comes to school.  Cameron and Jared instantly despise each other and Lorelei seems to be the reason for their animosity.  What does Jared know about her parents?  Why does Cameron tell Jared he can't have Lorelei?  And what will any of them do when Death comes knocking for real?  Thrilling, sassy, sexy, and inventive, Darynda Jones's first foray into the world of teens will leave readers eager for the next installment.
Time Between Us by Tamara Ireland Stone
Goodreads | Amazon
Why I Added It: Time and space travel romance, sounds angsty and romantic.
Summary:
Anna and Bennett were never supposed to meet: she lives in 1995 Chicago and he lives in 2012 San Francisco. But Bennett has the unique ability to travel through time and space, which brings him into Anna's life, and with him a new world of adventure and possibility.

As their relationship deepens, the two face the reality that time may knock Bennett back to where he belongs, even as a devastating crisis throws everything they believe into question. Against a ticking clock, Anna and Bennett are forced to ask themselves how far they can push the bounds of fate, what consequences they can bear in order to stay together, and whether their love can stand the test of time.
Falling Fast by Sophie McKenzie
Goodreads | Amazon
Why I Added It: Sounds like a little bit of humor but possibly a bad boy love interest too?
Summary: 
When River auditions for a part in an inter-school performance of Romeo and Juliet, she finds herself smitten by Flynn, the boy playing Romeo. But Flynn comes from a damaged family—is he even capable of giving River what she wants? The path of true love never did run smooth …
This is real life, not a rehearsal…