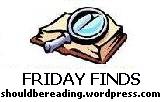 FRIDAY FINDS is hosted by Should Be Reading and showcases the books you 'found' and added to your To Be Read (TBR) list… whether you found them online, or in a bookstore, or in the library — wherever! (they aren't necessarily books you purchased).
Some weeks I add several books to my list. I'll be limiting my Friday Finds posts to 5 books each week. Those that don't make this week's list will be on next week's. So many books, so little time!

Flawed by  Kate Avelynn
Links: Goodreads | Amazon
Why I Added It: It has some similar themes to my WIP, though very different in other ways. I was pleasantly surprised to see a novel with this kind of premise from a young adult publisher.
Goodreads Summary:
Sarah O'Brien is alive because of the pact she and her brother made twelve years ago — James will protect her from their violent father if she promises to never leave him. For years, she's watched James destroy his life to save hers. If all he asks for in return is her affection, she'll give it freely.

Until, with a tiny kiss and a broken mind, he asks for more than she can give.

Sam Donavon has been James' best friend — and the boy Sarah's had a crush on — for as long as she can remember. As their forbidden relationship deepens, Sarah knows she's in trouble. Quiet, serious Sam has decided he's going to save her. Neither of them realize James is far more unstable than her father ever was, or that he's not about to let Sarah forget her half of the pact . . .

Unspoken by  Sarah Rees Brennan
Links: Goodreads | Amazon
Why I Added It: The premise is intriguing — being in love with a boy who may or may not be imaginary.
Goodreads Summary:
Kami Glass loves someone she's never met . . . a boy she's talked to in her head ever since she was born. She wasn't silent about her imaginary friend during her childhood, and is thus a bit of an outsider in her sleepy English town of Sorry-in-the-Vale. Still, Kami hasn't suffered too much from not fitting in. She has a best friend, runs the school newspaper, and is only occasionally caught talking to herself. Her life is in order, just the way she likes it, despite the voice in her head.

But all that changes when the Lynburns return.

The Lynburn family has owned the spectacular and sinister manor that overlooks Sorry-in-the-Vale for centuries. The mysterious twin sisters who abandoned their ancestral home a generation ago are back, along with their teenage sons, Jared and Ash, one of whom is eerily familiar to Kami. Kami is not one to shy away from the unknown—in fact, she's determined to find answers for all the questions Sorry-in-the-Vale is suddenly posing. Who is responsible for the bloody deeds in the depths of the woods? What is her own mother hiding? And now that her imaginary friend has become a real boy, does she still love him? Does she hate him? Can she trust him?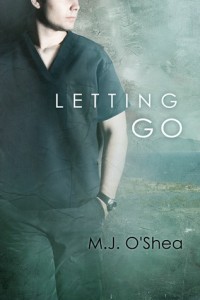 Letting Go by  M.J. O'Shea
Links: Goodreads 
Why I Added It: I read Coming Home and this is  a spin-off or companion to that book.
Goodreads Summary:
Drew McAuliffe has lived in the small town of Rock Bay most of his adult life. He'd like to be happy, but not at the cost of having his private life under his nosy neighbors' microscope, so he keeps his bisexuality under wraps.

After a messy breakup that caused him to pack up and move to Astoria, on the Oregon coast, Mason Anderson decides to avoid drama of the romantic kind. All he wants is to start over—alone.

But Drew and Mason were meant to meet. The long looks and awkward half hellos chance offered were never going to be enough. But when they do finally come together on the worst night possible, misconceptions and problems from their pasts get in the way. Until Mason learns to trust again—and until Drew learns to let go of who he thinks he is—a real connection is nothing but a pipe dream.
Take Me There by Carolee Dean
Links: Goodreads | Amazon
Why I Added It: I like bad-boys-with-a-heart stories, and this one leaves a bit of mystery that makes me want to know more.
Goodreads Summary:
Dylan has a bad-boy past and a criminal record. He knows that rich, beautiful Jess is way too good for him—but she has always been the one person who sees through his tough exterior and straight to his heart, and he has been hopelessly in love with her from the first time they met. He would change his life for a chance with her.

But trouble follows Dylan wherever he goes, and a deadly mistake soon forces him to hit the road and leave his dreams behind. He's on the run and in search of answers—answers to questions he wishes he'd never asked.
What's Left of Me by Kat Zhang

Links: Goodreads | Amazon
Why I Added It: Another very intriquing premise. Reminds me of The Host a little bit.
Goodreads Summary:
I should not exist. But I do.

Eva and Addie started out the same way as everyone else—two souls woven together in one body, taking turns controlling their movements as they learned how to walk, how to sing, how to dance. But as they grew, so did the worried whispers. Why aren't they settling? Why isn't one of them fading? The doctors ran tests, the neighbors shied away, and their parents begged for more time. Finally Addie was pronounced healthy and Eva was declared gone. Except, she wasn't . . .

For the past three years, Eva has clung to the remnants of her life. Only Addie knows she's still there, trapped inside their body. Then one day, they discover there may be a way for Eva to move again. The risks are unimaginable-hybrids are considered a threat to society, so if they are caught, Addie and Eva will be locked away with the others. And yet . . . for a chance to smile, to twirl, to speak, Eva will do anything.
Amazon links are affiliate links.