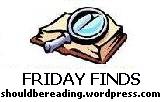 FRIDAY FINDS is hosted by Should Be Reading and showcases the books you 'found' and added to your To Be Read (TBR) list… whether you found them online, or in a bookstore, or in the library — wherever! (they aren't necessarily books you purchased).
 PLEASE NOTE: Some weeks I add several books to my list. I'll be limiting my Friday Finds posts to 5 books each week. Those that don't make this week's list will be on next week's. So many books, so little time!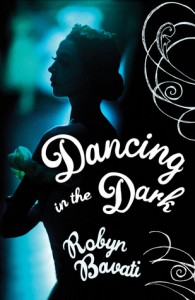 Dancing In The Dark by Robyn Bavati
Links: GoodReads | Amazon

Why I Added It: I like character-driven stories about secrets and I've been interested in reading books about ballet ever since I had a fan fiction plot bunny involving a ballet dancer.
GoodReads Summary:
Ditty was born to dance, but she was also born Jewish. When her strictly religious parents won't let her take ballet lessons, Ditty starts to dance in secret. But for how long can she keep her two worlds apart? And at what cost?

A dramatic and moving story about a girl who follows her dream, and finds herself questioning everything she believes in.
The Summer of No Regrets by Katherine Grace Bond
Links: GoodReads | Amazon
Why I Added It: Looks like a fun summer YA romance with a mysterious boy. What's not to like?
GoodReads Summary:
This was the summer that would change my life.

No more being what everyone expected. No more doing what everyone else wanted.

So when Luke came into my life, I decided to keep him a secret. Maybe he as a dead-ringer for notorious Hollywood bad boy Trent Yves. And it was possible that everything he told me was a lie. And yes, I was probably asking for trouble. But all I saw was Luke–sweet, funny, caring–someone who would let me be the real me.

But which was the real him?
The Boy Who Sneaks in my Bedroom Window by Kirsty Moseley
Links: GoodReads | Amazon
Why I Added It: I'm a fan of brother's best friend to lover stories — as long as the age difference isn't creepy. And this has a bit of angst thrown in as well. Plus, look at that cover!
GoodReads Summary:
Amber Walker and her older brother, Jake, have an abusive father. One night her brother's best friend, Liam, sees her crying and climbs through her bedroom window to comfort her. That one action sparks a love/hate relationship that spans over the next eight years.

Liam is now a confident, flirty player who has never had a girlfriend before. Amber is still emotionally scarred from the abuse she suffered at the hands of her father. Together they make an unlikely pair.

Their relationship has always been a rocky one, but what happens when Amber starts to view her brother's best friend a little differently? And how will her brother, who has always been a little overprotective, react when he finds out that the pair are growing closer?
Timepiece by Myra McEntire
Links: GoodReads | Amazon
Why I Added It: I finished Hourglass last week. Darn those unanswered questions.
GoodReads Summary:
A threat from the past could destroy the future. And the clock is ticking…

Kaleb Ballard's relentless flirting is interrupted when Jack Landers, the man who tried to murder his father, timeslips in and attacks before disappearing just as quickly. But Kaleb has never before been able to see time travelers, unlike many of his friends associated with the mysterious Hourglass organization. Are Kaleb's powers expanding, or is something very wrong?

Then the Hourglass is issued an ultimatum. Either they find Jack and the research he's stolen on the time gene, or time will be altered with devastating results.

Now Kaleb, Emerson, Michael, and the other Hourglass recruits have no choice but to use their unusual powers to find Jack. But where do they even start? And when? And even if they succeed, it may not be enough…
Glass Heart by Amy Garvey
Links: GoodReads | Amazon
Why I Added It: Finished Cold Kiss and need to read the next one!
GoodReads Summary:

Wren can do things that other people can only dream of. Make it snow on a clear, crisp day. Fly through an abandoned tunnel. Bring a paper bird to life.

Wren knows her abilities are tinged with danger—knows how easy it is to lose control—but she can't resist the intoxicating rush. And now that she has Gabriel by her side, someone who knows what she can do—what she has done—she finally feels free to be herself.

But as Wren explores the possibilities of her simmering powers, Gabriel starts pushing her away. Telling her to be careful. Telling her to stop. The more he cautions her, the more determined Wren becomes to prove that she can handle things on her own. And by the time she realizes that Gabriel may be right, it could be too late to bring him back to her side.
Book summaries from Goodreads. Amazon links are affiliate links.