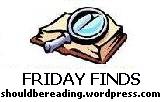 FRIDAY FINDS is hosted by Should Be Reading and showcases the books you 'found' and added to your To Be Read (TBR) list… whether you found them online, or in a bookstore, or in the library — wherever! (they aren't necessarily books you purchased).  
PLEASE NOTE: Some weeks I add several books to my list. I'll be limiting my Friday Finds posts to 5 books each week. Those that don't make this week's list will be on next week's. So many books, so little time!
Loving Summer by Kailin Gow
Links: Goodreads | Amazon
Why I Added It: Sounds like a fun summer read with lots of boys and romance.
GoodReads Summary:
After not having seen childhood family friends, Rachel and her brothers Nathaniel and Drew in three years, sixteen year old Summer Jones, who has always spent her summers with the Donovans at her Aunt Sookie's Malibu beach house, discovers there is more to her long-time crush on one of the Donovan brothers this summer than meets the eye, especially when Astor Fairway, the handsome television star taking her aunt's acting coaching sessions, notices her. This summer, the summer she is noticed, would be the summer no one could forget.
Perigee Moon by Tara A. Fuller
Links: Goodreads | Amazon
Why I Added It: Secrets, romance, and something supernatural…what's not to love?
GoodReads Summary:
 After a horrific fire claims the life of her mother, seventeen year old Rowan Bliss finds herself in the miniscule town of Ipswich, Massachusetts. It's here that she meets Alex, a deliciously mysterious boy who holds the key to unlocking her family's dark secret.

As Rowan falls helplessly over the edge for Alex, the secrets that he insists on keeping refuse to be contained, and the truth that she uncovers challenges everything she has ever believed. Alex is a witch. And now he's awakened something within her she never even knew existed. But out of all of this, the one thing Rowan won't accept is the fact that Alex is destined to die. Now Rowan must unearth the buried power she harbors within to escape a deadly prophecy, defy the very laws of time, and prevent the hands of fate from taking yet another person she loves.
Every Day by David Levithan
Links: Goodreads | Amazon
Why I Added It: I love the premise. A different person every day, and then … trouble in the form of love.
GoodReads Summary:
Every morning, A wakes in a different person's body, a different person's life. There's never any warning about where it will be or who it will be. A has made peace with that, even established guidelines by which to live: Never get too attached. Avoid being noticed. Do not interfere. It's all fine until the morning that A wakes up in the body of Justin and meets Justin's girlfriend, Rhiannon. From that moment, the rules by which A has been living no longer apply. Because finally A has found someone he wants to be with—day in, day out, day after day. With his new novel, David Levithan has pushed himself to new creative heights. He has written a captivating story that will fascinate readers as they begin to comprehend the complexities of life and love in A's world, as A and Rhiannon seek to discover if you can truly love someone who is destined to change every day.
Winter Longing by Tricia Mills
Links: Goodreads | Amazon
Why I Added It: A boy-next-door and moving on after loss story.
GoodReads Summary:
 When Winter's boyfriend is killed in a plane crash in the Alaskan wilderness, she's robbed of the future she'd only just allowed herself to believe might be hers. Winter and Spencer had been destined for one another. And after his death, Spencer's presence continues to haunt her.

But when her next-door neighbor becomes an unlikely friend, Winter begins to accept all that she can't change. Can she open herself to a new future . . . and a possible new love?
Unravel Me by Kendall Ryan
Links: Goodreads
Why I Added It: I'm not usually one for psychological novels, but this one intrigues me.
GoodReads Summary:
 Psychology student Ashlyn Drake's neat, orderly life takes a turn for the crazy when she finds the perfect subject for her amnesia thesis – a young man without any memory of his previous life, including the murder he's accused of committing.

Against all common sense, Ashlyn's drawn to him like a moth to a flame. Perhaps it's that he's so incredibly male, and even handcuffed to his hospital bed he could pass for a cologne ad – Scent de Insanity. Or perhaps it's because she's spent too many lonely nights studying. Either way, she's determined to help him solve the mystery of his past. She begins to unravel who he was before, using his cryptic tattoos, and his paintings that scream of a dark past as her only clues. When she finally learns his secret there's no telling which one is the real him, the gentle lover she's fallen for or the troubled man with a dark past.
 Book summaries from Goodreads. Amazon links are affiliate links.
Related Posts: